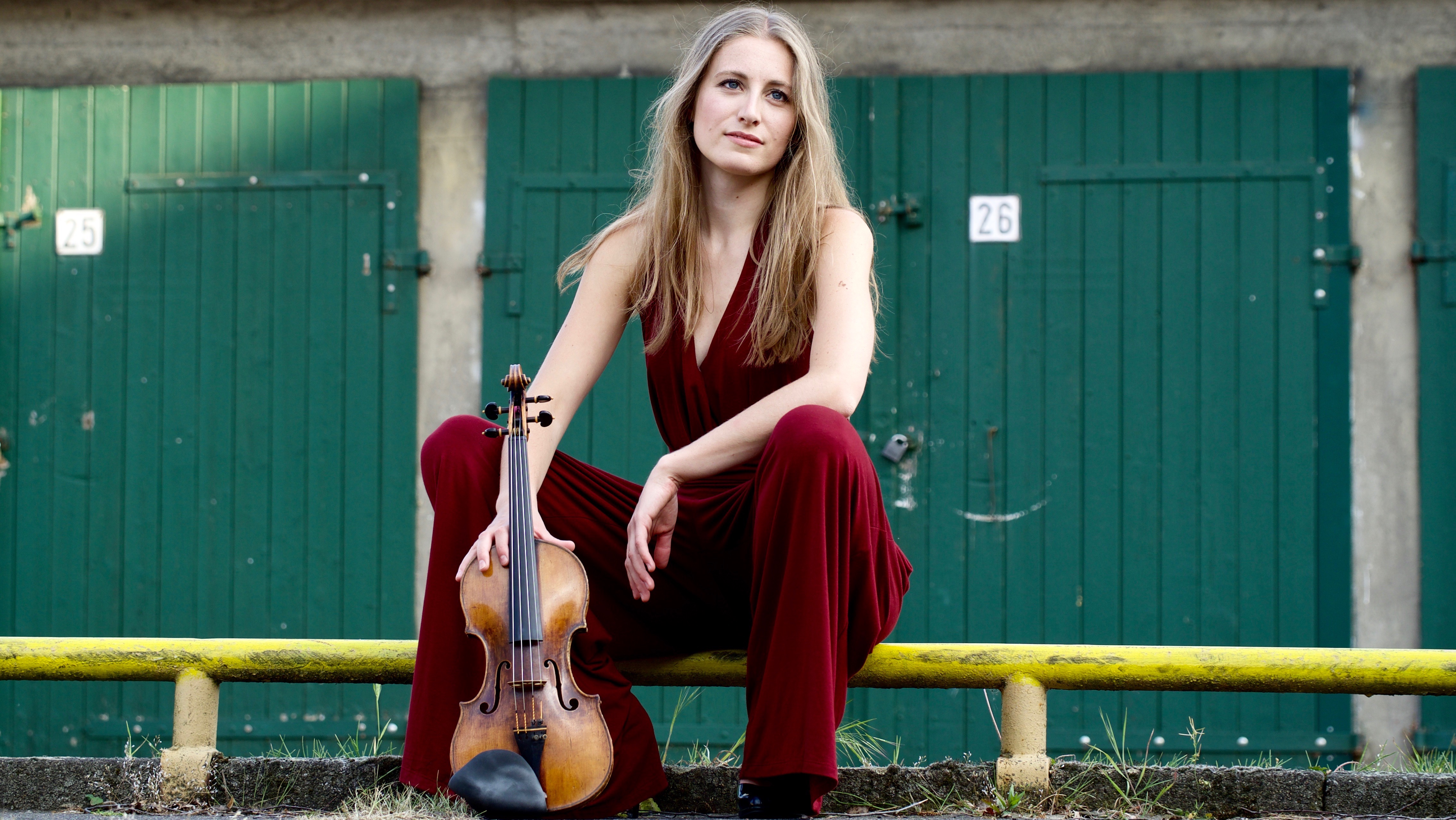 "

The solo violin could not have been cast better than Johanna Ruppert, a successful violinist of the younger generation, a master of the soft timbres, who brought the musical theme to the highest perfection with emotional depth and virtuosic grace."
Bad Sodener Zeitung vom 18.09.2019 (translated from German)
Johan­na Rup­pert is a suc­cess­ful young vio­lin­ist. High­lights of the last years were con­certs at the Fes­ti­val Meck­len­burg-Vor­pom­mern, at the Elbphil­har­monie Ham­burg, the Mari­in­sky The­ater in St. Peters­burg and the Transsi­ber­ian Art Fes­ti­val. She is a first price win­ner of the Kiwa­nis Com­pe­ti­tion in Zurich, in Sep­tem­ber 2016 she won the Spe­cial Award and the Audi­ence Award at the Inter­na­tion­al Köni­gin Sophie Char­lotte Com­pe­ti­tion for Vio­lin and received the third price at the Inter­na­tion­al Music Com­pe­ti­tion Ham­burg. As a soloist she has played with the Jenaer Phil­har­monie, the Sin­fonieorch­ester Gotha, the junge nord­deutsche Phil­har­monie and the Kam­merorch­ester Kaiser­slautern.
As a sco­lar­ship hold­er of the TONALI14 Grand Prix Com­pe­ti­tion in Ham­burg Johan­na has gained spe­cial skills in music com­mu­ni­ca­tion. She is the ini­tia­tor and artis­tic direc­tor of the fes­ti­val Klas­sik nah dran in Zweibrück­en, which took place for the 1rst time in March 2017. In coop­er­a­tion with Tonali the fes­ti­val is ded­i­cat­ed to giv­ing young peo­ple enthu­si­asm for clas­si­cal music.
In 2016 she found­ed togeth­er with Jes­si­ca Kaiser (Gui­tar) the DUO KARUNA. They per­formed at many inter­na­tion­al cham­ber music fes­ti­vals all over Europe and have been award­ed many prices at inter­na­tion­al com­pe­ti­tion such as their youngest suc­cess with the 1rst price at the North Inter­na­tion­al Music Com­pe­ti­tion in Eng­land.
Johan­na Rup­pert was born in Zweibrück­en in 1992 and has been play­ing vio­lin since she is six years old. She has been a stu­dent at the Musik­gym­na­si­um Schloss Belvedere. In 2011 she began her vio­lin stud­ies with Prof. Andreas Lehmann in Weimar, lat­er stud­ied with Prof. Nora Chas­tain at the Zurich Uni­ver­si­ty of the Arts and in Jan­u­ary she com­plet­ed her Bach­e­lor-Degree at the Uni­ver­si­ty of Music and per­form­ing Arts Graz in the class of Prof. Priya Mitchell with the best final grade.
Johan­na has received fur­ther musi­cal inspi­ra­tion by Thomas Bran­dis, Igor Ozim, Con­radin Brot­bek, Mar­tin Span­gen­berg, Natascha Prischep­enko, Antje Wei­thaas and Ivry Gitlis. She has been award­ed sco­lar­ships by the Sparkasse Cul­ture Foun­da­tion Hes­sen- Thürin­gen, the Sum­mer Acad­e­my Lenk, the Dart­ing­ton Sum­mer School and the Swiss Thyll Foun­da­tion.